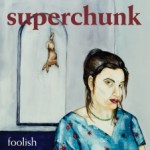 Time for the latest entry on the remastered & reissued list: 1994′s "Foolish", following on previous similar treatments for "Here's Where The Strings Come In", "On The Mouth" and "No Pocky For Kitty". From Merge:
On September 13, Merge will reissue Superchunk's landmark 1994 album Foolish on CD, LP, and digital download! Foolish has been remastered for this reissue and will feature some different album art and extensive liner notes by drummer Jon Wurster.
The deluxe reissue will also include the following bonus material: The Clambakes, Vol. 6: One in a Row, a 64-minute live recording from 1994 of Superchunk's show at First Avenue in Minneapolis during the Foolish tour; three songs from rehearsals in Jon Wurster's basement taped just before the band entered the studio to record the album; and the three acoustic b-sides from the "Driveway to Driveway" EP.
Article continues over at Merge »
Filed Under:
News
by superchunk |
September 8, 2011
« "Here's Where The Strings Come In" Remastered & Reissued "Void" b/w "Faith" Record Store Day 7-inch »