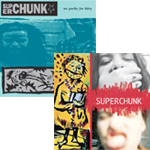 Newly remastered and reissued versions of On the Mouth and No Pocky for Kitty are available on CD, LP and digital download at your favorite record store, digital provider and the Merge store.
Remastered by Jason Ward at Chicago Mastering Company from the original 1/2″ reels, both albums will be available for the first time on 180 gram vinyl (with download coupon), and on CD newly packaged in LP-style cardboard sleeves.
Order On the Mouth and No Pocky for Kitty on CD, LP or digital download in the Merge store, and don't forget to pre-order the new Superchunk album, Majesty Shredding on CD or LP while you are there!
Filed Under:
News
by superchunk |
September 13, 2010